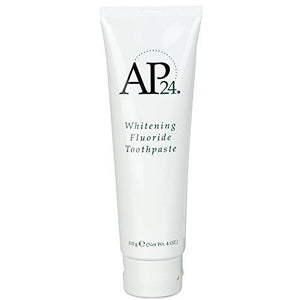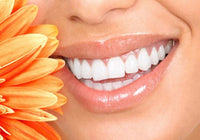 What makes AP24 special?
AP-24® Whitening Fluoride Toothpaste lightens teeth without peroxide while preventing cavities and plaque formation.
This gentle, vanilla mint formula freshens breath and provides a clean, just-brushed feeling that lasts all day.
✔️ Brightens and whitens teeth.
✔️ Helps remove stains.
✔️ Helps remove and prevent plaque buildup.
✔️ Helps the prevention of dental cavities.
✔️ Provides a long-lasting smooth, clean, and fresh feel.
✔️ Features AP-24, an exclusive ingredient.
✔️ Refreshing, trademark vanilla mint flavor.
✔️ Thick, creamy, rich formula.
✔️ No harmful peroxides.
✔️ No Bleach or harmful chemicals.
✔️ Safe for children.
✔️ Safe for daily use.
Testimonials
I've been using this whitening paste for a couple of years and I love how clean my teeth feels. My teeth is usually sensitive, but this whitening paste works well for my sensitive teeth.

Angie S., RN
I drink a lot of coffee and this works well with removing my coffee stains. So glad I tried it. For many men out there we are lazy and this is so simple to use.

Marvin M.
For someone who smokes cigarettes I was surprised that this removed the nicotine stains on my teeth. I noticed a huge difference within a week of using this whitening paste. My family and friends love it too. 

Monique F.
Follow us on Instagram!